History and Development of Transportation system in Africa
Right through the ages, man has being a locomotive animal moving from place to place for exchange of goods and services. The constant phenomenon of scarce human and material resources as well as the near insatiable need for the exchange of goods and services has always justified the importance of transportation in human history. Seun Ayodeji writes on the history and development of transportation in Africa.
In Africa, transportation enabled societies to enjoy advantages of specialisation of resources in which had comparative advantage, and the benefits of domain of labor thereby making it possible for products to be brought from distances, thus avoiding the need for local production.
Transportation did lay the foundation for the discovery of agriculture and the sophisticated tradition of iron metallurgy.
For instance, early agricultural activities commenced in Africa when the early man through his gyratory activities observed the germination of already discarded seeds in his overgrown environment.
With the use of iron implements of the Neolithic era, the adventurous ancestors of modern man were able to clear forest regions into farmlands while farm routes later grew into enlarged bush paths which were used by primitive communities.
The Nigerian perspective
The origin of many Nigerian roads remains very controversial. However, early primitive roads in the forest region were constructed by hunters, who had to create tracks while searching for games and by farmers, who were connecting one farm with another.
As society became stabilized, primitive communities used farmlands and farm trees to situate their boundaries. Pre-literate communities constructed bush paths through communal efforts to boundary farmland spots. These bush paths served as transport routes linking one neighboring community to another.
Early Modes of Transportation in Africa
The modern modes of transportation we have now are by road, air, water bodies. Majorly, the earliest modes of transportation were land and water bodies as air travel is a relatively novel mode thanks to the Wright brothers.
Transportation by Land
There are various means of land transportation they are:
Human Porterage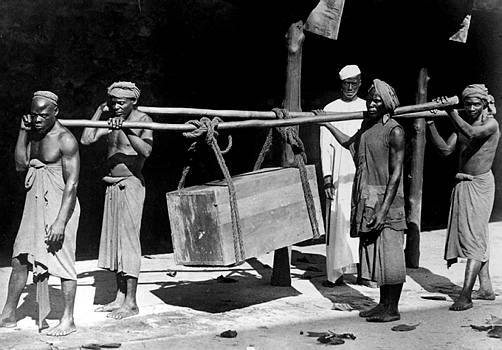 Early men were nomadic in nature and they had to trek long distances in order to transact business, hunt, farm etc. This is the earliest form of transportation as Human porterage simply means "the carriage of goods by man at the same time as he transports himself by walking".
Most of the head porters were recruited from nuclear and extended family settings. Majorly early Africans were subsistent farmers who depended greatly on their wives and children for the movement of agricultural products to and from the farm. Again, a man's production had to be carried to the consumers, and at the peak of harvesting, when immediate removal of crops from the farm to the villages or Market places.
It was a Veritable Instrument for Intergroup Relations amongst early communities and as a matter of urgency in order to avoid waste; the producer relied on his family and slaves. Human porters throughout pre-colonial Nigeria made use of local roads or bush paths that linked neighboring villages, city states and even kingdoms and empires. In the African region, various clans and village groups were linked by bush-paths. Human porterage was adopted because of the trek able distance involved in any movement and interactions between communities.
Animal Transportation: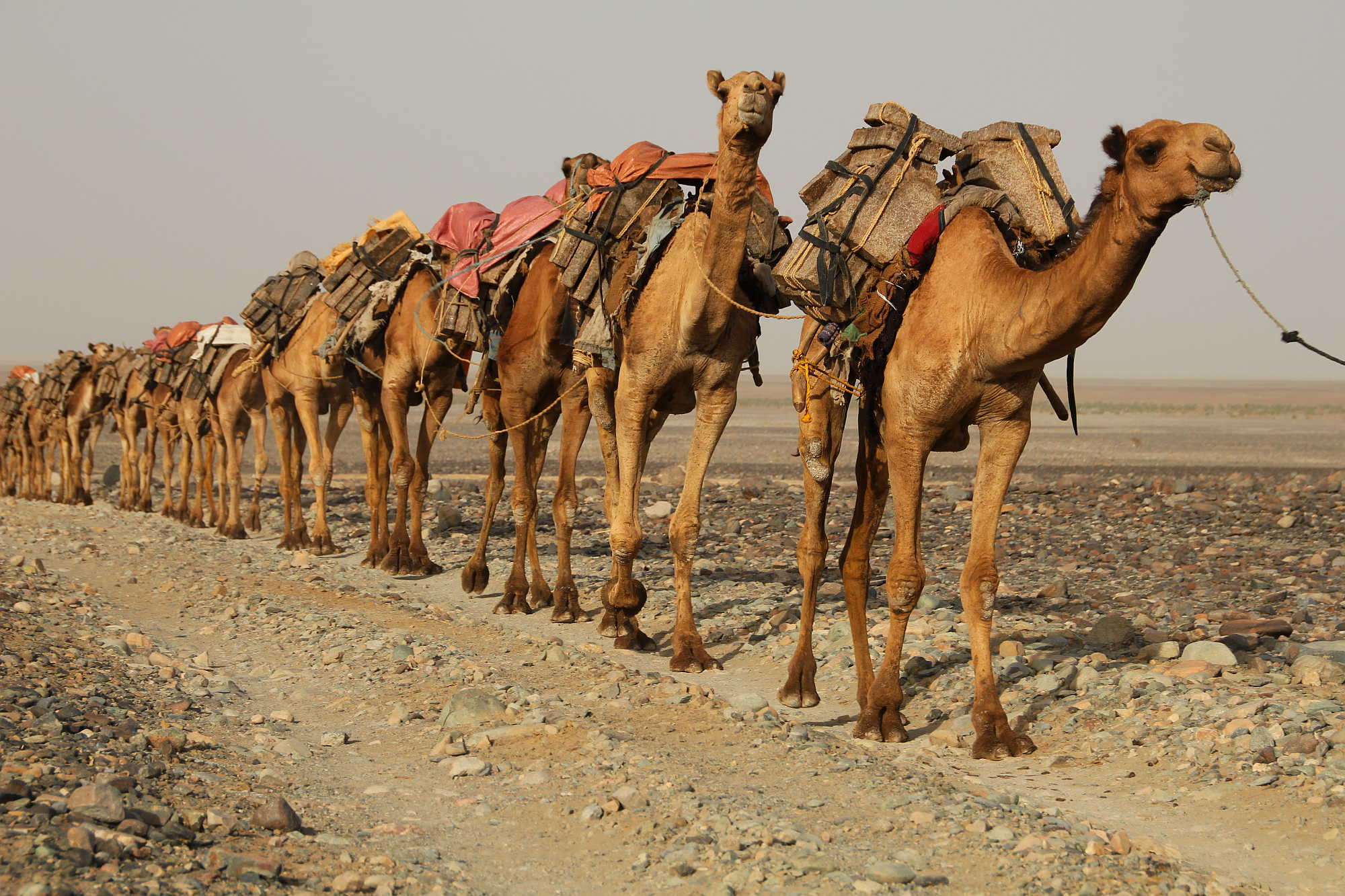 These animals are called beast of burden as they were domesticated and they were being used to transport goods and carry passengers from one geographical location to another. Examples of such animals are donkeys, camels, oxen, dromedaries and horses.
Transportation by Water Bodies
Africa is surrounded by the Mediterranean Sea to the north, both the Suez Canal and the Red Sea along the Sinai Peninsula to the northeast, the Indian Ocean to the east and southeast, and the Atlantic Ocean to the west. Also Africa boasts of lots of rivers the majors ones are Nile, Niger, Benue, Congo, Orange, Limpopo, and Zambezi.
Other water bodies are lakes lagoons rivulets and creeks. Majorly canoes and ships were used to navigate the water bodies which aided in commercial and cultural activities among communities.
The role of transportation in cultural and economic development of the African nations can't be overemphasized. It paved way for the socioeconomic interactions we have now which created the nations we do have now.
With the passage of time, these local paths gained both commercial and strategic importance since they were exploited by traders and head porters who participated actively in both internal and external commercial activities.
From everything said above we can see that transportation was crucial to the development of culture, occupations, and commercial activities as it created a meeting and melting point for commercial activities and cultural exchange respectively.