Adire: History, Cultural Value and Symbolism of the African Attire
Compiled by Maha Olatokunbo
Adire textile production is assumed to be inborn; inherited by birth and the heritage passed on to descendants of families who were also involved in the production process. In Egba land, the craft was formerly known to be a family business. Parents passed the techniques down to their female children and the wives of their sons. For a long time, people who were not from a certain family were not allowed to partake in adire production as it was a part of the family's heritage.
Adire, the yoruba tie and dye textile is an indigo-dyed cloth made in the southwestern Nigeria, using a variety of resist-dyeing techniques.
The earliest pieces of this type were probably simple tied designs on cotton cloth handspun and woven, but in the early decades of the 20th century new access to large quantities of imported shirting material via the spread of European textile merchants in Abeokuta and other Yoruba towns caused a explosion in these women's entrepreneurial and artistic efforts, making adire a major local craft in Abeokuta and Ibadan, attracting buyers from all over West Africa.  Abeokuta is considered to be the capital of adire making in Nigeria.
The Adire was first produced in Jojola's compound of Kenta, Abeokuta by Chief Mrs. Miniya Jojolola Soetan, the second Iyalode (Head of Women) of Egba land. She then passed on the process to her children and onward to the future generations. The first Adire material was made with Teru (local white attire) and Elu (local Dye) made from elu leaf which is planted in the Saki area of Oyo state.
Though, some suggest that the large cities of Ibadan and Osogbo are more important in Adire making because Adire dyeing began in Abeokuta when Egba women from Ibadan returned with this knowledge. The cloth's basic shape became that of two pieces of shirting material stitched together to create a women's wrapper cloth. New techniques of resist dyeing developed.
In the present day, simplified stenciled designs and some better quality oniko and alabere designs are still produced, but local taste favours "kampala" (multi-coloured wax resist cloth, sometimes also known as adire by a few people). However, there has been a recent revival of the Adire art by Nigerian artisans such as Nike Davies-Okundaye, who has inspired a younger generation of designers like Amaka Osakwe (and her label Maki-Oh) and Duro Olowu. Political figures and celebrities such as Michelle Obama and Lupita Nyong'o have worn adire-inspired clothes recently.
Today, there are three main resist techniques used in Nigeria: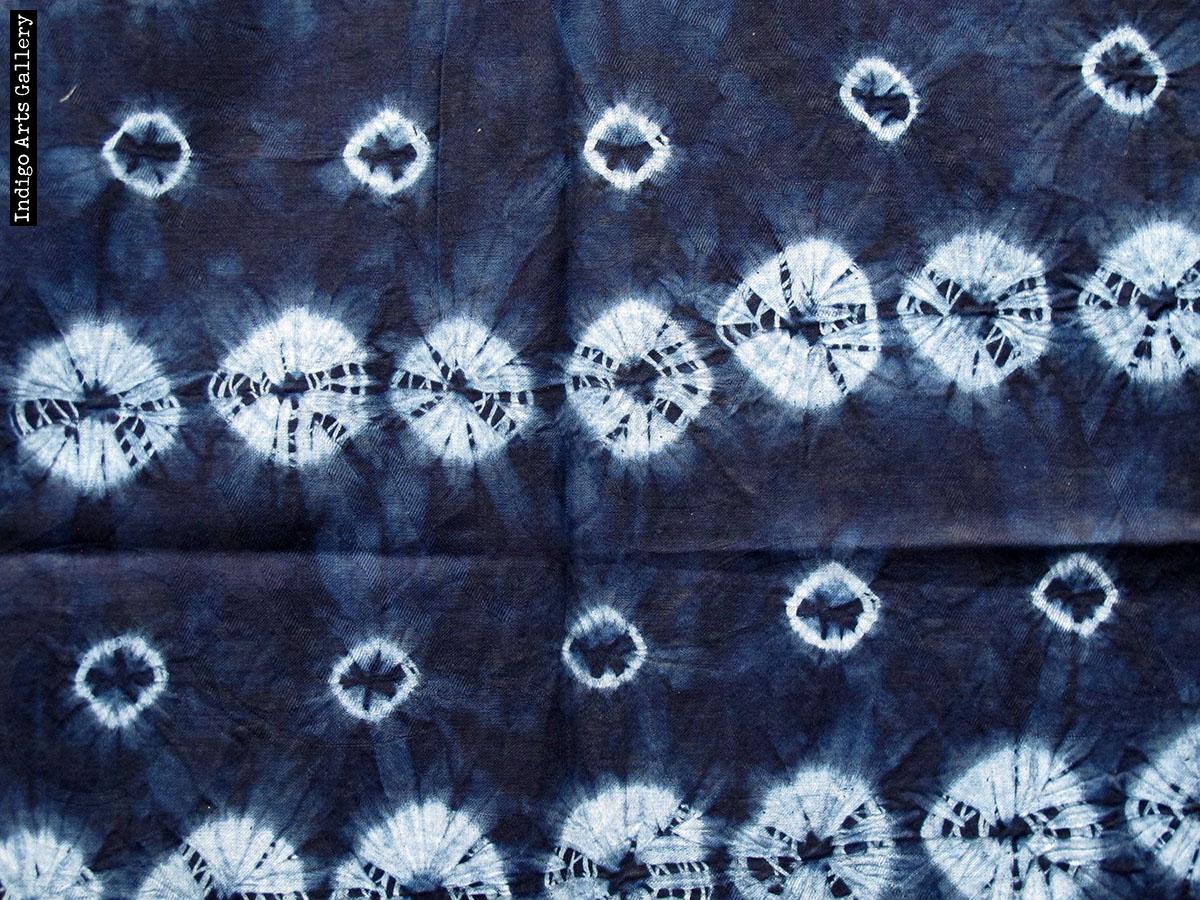 Oniko: this process involves tying raffia around hundreds of individual corn kernels or pebbles to produce small white circles on a blue background. The fabric can also be twisted and tied on itself or folded into stripes.
Alabere:
Stitching raffia onto the fabric in a pattern prior to dyeing. The raffia palm is stripped, and the spine sewn into the fabric. After dyeing the raffia is usually ripped out, although some choose to leave it in and let wear and tear on the garment slowly reveal the design.
Eleko:
Resist dyeing with cassava paste painted onto the fabric. Traditionally done with different size chicken feathers, calabashes carved into different designs are also used, in a manner similar to block printing. Since the early twentieth century, metal stencils cut from the sheets of tin that lined tea chests have also been used.
Most of the designs are named, with popular ones including the jubilee pattern, (first produced for the silver jubilee of George V and Queen Mary in 1935), Olokun ("goddess of the sea"), Sunbebe ("lifting up of the beads") and Ibadandun ("Ibadan is sweet").
Nigeria is also known for its two-tone indigo resist designs, created by repeat dyeing of cloth painted with cassava root paste to create a deep blue; the paste is then washed out and the cloth dyed a final time. Quality cloth is dyed 25 or more times to create a deep blue-black color before the paste is washed out.